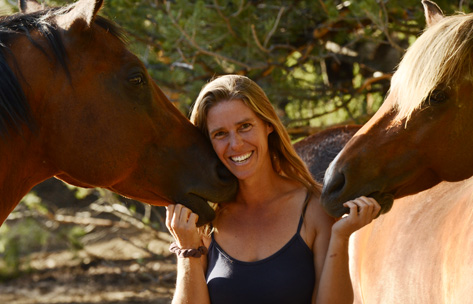 I have always loved animals! Big or small, domesticated or wild, it does not matter! From an early age I had some communication with all kinds of animals, it was natural to me. It was so much easier for me though to be a barefoot trimmer, a massage therapist etc. and be relatable in the world that I did not develop this gift further for some time. Yet in the last years I went inside a lot more due to TBI among other injuries that caused me to stop and slow down. It was an intense time of healing but brought many gifts with it, one being that I could hear animals and other messages from the realm beyond the veil a lot better. I made the decision to study for a year intensively to become even more accurate and detailed in my delivery of the animals messages and I am happy to say I reached my goal.
I am also a licensed massage therapist, have studied homeopathy and Chinese Herbal medicine in combination with acupuncture for animals and people with my late husband, Charles Mardel. I have been studying various other healing modalities for more then two decades. I started my healing career in Germany by studying naturopathy for animals and continued my in depth study of various massage techniques like Lomilomi, Swedish massage and Syntropy on the Island of Maui which I was blessed to call home for twelve years. I have always felt drawn to the subtle energy work which included Cranial Sacral Therapy and Polarity Therapy. I have also incorporated essential oils in my path to healing and I am happy to pass this on to you!
I have been studying long distance high frequency healing work for many years now experiencing the work on myself before and after a life changing near death experience. I am feeling the tremendous benefits of it within my own body which has helped me to become even more subtle in my approach to holistic healing. I am offering individualized sessions for long distance healing where I work with a medical team of the Ascended Masters.
I am teaching several programs as online classes and live workshops to bring forth the teachings I have received.
Part of my missions are:
to bring awareness to TBI (Traumatic Brain Injury) and PTSD (Post Traumatic Stress Disease) and assist people on their way of recovery. I had been in an incident with a sedated mule and decided to embrace piecing my life together after being kicked in the face and experiencing TBI and PTSD myself. I made a conscious decision to thrive and am now helping others to do the same after experiencing trauma. I am teaching courses, offering live events at the Sanctuary and doing healing sessions for people and animals.
to help people through loss and grief of loved ones – yes, animals are part of our family and please remember that the loss of an animal can be as devastating as the loss of a loved one. I am teaching about the transition at the moment of death and how we can prepare ourselves for this moment that all of us will at some point experience.
to bring awareness of the amazing gifts the animal kingdom has to gift us with and what we can do for them in return. I am giving animals a voice so your relationship with them can flourish and grow an everlasting strong bond, a relationship of equal partners.
to raise frequency and heal through essential oils. I have become so involved with essential oils and the benefits that I became a Wellness Advocate for DoTerra and am happy to give free consults. Please also check out the Essential Oil section on this website.
I was initiated in India into the Phowa (i.e. Transference of consciousness at the time of death) practice and meditation and received her Buddhist name, Phema Khandro, in 2001 by his Venerable K.C. Ayang Rinpoche who continues this uninterrupted succession of the Drigung line of Phowa Lamas from the Supreme Guru Dorje Chang to Tilopa, Naropa, Marpa, Milarepa and Gampopa up to the present time.
I live in Santa Fe, New Mexico if you would like to receive healing sessions in person or get live coaching.